SABU
Height: 6′
Weight: 234 lbs.
From: Bombay, India
Trainer: The Sheik
Major Promotions: ECW, FMW, NJPW, WWE, TNA
Titles Held:  New Japan Pro Wrestling IWGP Junior Heavyweight Champion, 2x NWA ECW Heavyweight Champion/ECW World Heavyweight Champion, NWA ECW Television Champion, a 3x ECW World Tag Team Champion, NWA World Heavyweight Champion, NWA Independent World Heavyweight Championship, WWC Universal Champion, XPW World Heavyweight Championship, XICW Xtreme Intense Champion, Pro Wrestling Holland single's champion.
MANAGERS: The Sheik, 911, Paul E. Dangerously, Bill Alfonso, Rob Van Dam, The Sheik, Tammy Lynn Sytch, The Sandman, Tommy Dreamer, The Super Genie
EARLY DAYS – Being trained by his by his uncle, The Sheik (Ed Farhat,)  Sabu comes from the roots of wrestling royalty. For the first five years or so of his professional career while still under the Sheik's guidance, he wrestled for wherever The Sheik was being booked to work. This included Michigan, Memphis, Ohio, Canada and Hawaii.
Sabu never wrestled under his actual his birth name, Terry Brunk, seeing how it could have easily caused people to confuse him with Terry Funk. As a rookie, he debuted with the name Terry SR, at his uncle's suggestion. The Sheik never told anyone officially what the "SR" part of the name meant. After taking a tour in Japan, he was set to be billed as being from Saudi Arabia under the ring name Sabu the Elephant Boy. The use of "The Elephant Boy" part of his name never really went anywhere. It was soon dropped, in favor of using just the shorter part of the moniker, SABU. In addition to his name, Sabu's also inherited the never ever speaking trait from The Sheik, as well.
Accepting a Japanese tour with his uncle to wrestle for Onita at Frontier Martial–Arts Wrestling (FMW), Sabu received a great deal of his trademark scars on his arms and torso in over two dozen no-rope barbed wire death matches, and a famous "Ring of Fire Deathmatch" tagging with his uncle against Atsushi Onita and Tarzan Goto.
ECW WRESTLING – Sabu became famous for contributing innovation to a new style of Japanese hardcore matches, then brought this style back home to the States to Extreme Championship Wrestling. Many do not realize it, but it wasn't Paul Heyman that brought a style of wrestling to his promotion that would soon become it's trademark. Sabu had become synonymous with table-breaking at this time, and ushered in a whole new way of doing things in the ring.
The most significant matches during the early part of Sabu's career in ECW by defeating Terry Funk to win the ECW World Heavyweight Championship, and to also win the tag belts with Taz, after beating Public Enemy. Missing an ECW show to work a match for New Japan Pro Wrestling (NJPW), led Heyman to legitimately fire Sabu live at the event.
WCW WRESTLING – Sabu then moved on to work some matches in 1995 for WCW, World Championship Wrestling, against buys like Alex Wright, and Disco Inferno. Mostly, however, he played a big part of in the early days of the cruiserweight division. He notably beat Mr. J.L. (Jerry Lynn on a mask) at Halloween Havoc, where the Sheik hit J.L. in the face with his trademark fireball.
ECW RETURN – Sabu returned to ECW late in '95 at November to Remember, and eventually won the ECW World Tag Team Championship with Rod Destiny. A year of call-outs and insults from Taz, culminated in a grudge match at ECW's first pay-per-view, Barely Legal. Taz won, but following the match, Taz's manager Bill Alfonso turned on him and sided with Sabu & Rob Van Dam, who then formed a tag team. Sabu and Taz continued to feud on and off for the remainder of Taz's ECW career. Sabu was later included in the WWF invasion angle, where ECW wrestlers invaded WWF's Monday Night Raw program and held ECW-style matches on their show.
Sabu's most famous match was a "No-Ropes Barbed-Wire Match" with Terry Funk at ECW's Born to be Wired. At one point in the bout, Sabu colliding violently into the barbed wire which tore open his bicep in half. Bill Alfonso gave Sabu some duct tape and he tapped up the gory 10 inch gash. The match ended with both men tangled up in barbed wire so bad that it took several members of the ring crew with wire cutters to cut them free from the mess.
TNA: IMPACT WRESTLING – Sabu left ECW in early 2000 and worked on bigger independents like Juggalo Championship Wrestling for a while. Sabu then signed with Total Nonstop Action Wrestling (TNA) in 2002, initially taking on Malice and Ken Shamrock. Sabu then took on Raven's group, CM Punk & Julio Dinero, then Raven himself. Raven defeated Sabu in the first of a series of planned matches.  Their rematch never happened when Sabu legitimately suffered a serious back injury, sidelining him for ten months. Sabu returned to TNA on July 29, 2005 at TNA: Sacrifice. In a twist, Sabu then teamed up with Raven. After that, a long term feud between Sabu and Abyss. This led to Sonjay Dutt joining forces with Sabu.
WWE WRESTLING – In 2006, Sabu joined WWE, World Wrestling Entertainment, to be a cornerstone of their new "ECW" show on the SciFi Channel, after acquiring the name. At the One Night Stand, he battled Rey Mysterio for the World Championship, ending in a no contest. Later, Sabu won a 10-man "Extreme Battle Royal" winning a WWF title match with John Cena at Vengeance in an "Extreme Lumberjack match."
In the summer of 2006, Sabu was forced to speak on camera by WWE, which he did not like, as it was against the legacy of his character. Sabu beat Rob Van Dam a ladder match to win a shot at Big Show at SummerSlam. Sabu joined a faction called the "ECW Originals" along with Rob Van Dam, Tommy Dreamer and The Sandman. They feuded with the New Breed, a group of newer wrestlers working under the new WWF-owned ECW. These wresters included Elijah Burke, Kevin Thorn, Marcus Cor Von and Matt Striker. He left in Ma7 2007.
TNA RETURN – After working in the independent circuit and in Mexico until 2010, Sabu returned to TNA, most notably for TNA's ECW reunion show.  At the PPV, he was defeated by Rob Van Dam in a Hardcore Rules match. The ECW wresters soon formed a faction called "Extreme, Version 2.0," feuding with members of TNA's regular roster. RVD & Sabu feuded some with Storm & Rude.  A.J. Styles eventually beat Sabu, in a "loser leaves the company" type match.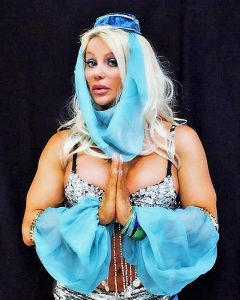 CURRENT TOURINGS – On November 15, 2014, Melissa Coates transformed herself into Sabu's new manager the The Super Genie. The new pairing have been very successful and continue to make waves all over the world.
SIGNATURE MOVES
Triple Jump Moonsault – We really can't describe this nonsense. You need to see it for yourself.
Arabian Facebuster – a jumping, diving or a somersault leg drop, driving a steel chair into the face of the opponent.
Arabian Skullcrusher– a jumping, diving or a somersault leg drop, driving a steel chair into the back of the opponent's head, usually through a table.
Arabian Clutch aka Camel clutch – learned from his The Sheik, Ed Farhat
Air Sabu – a heel kick to a cornered opponent, with the assistance of a steel chair.
Arabian Press – a slingshot split-legged springboard onto an opponent outside the ring.
Signature Double Team Maneuver with RVD – Springboard somersault leg drop (Sabu) / Rolling Thunder (Van Dam) combination.