WHO IS THE SUPER GENIE?
Screw that Rat-Boy, Bill Alfonzo. He is  old news. He is so 1995.
Sabu decided a long time ago to enlist the managerial services from someone else who could better further his career, and also have his back.
Melissa Coates was just that person.
Melissa Coates is a pro wrestler, fitness model, and a badass bodybuilder. She also brings to the table her acting chops, best known for appearing in the first two seasons of the Game Show Network's Extreme Dodgeball. On November 15, 2014, Coates went through a mystical transformation when she began managing Sabu, complete with the new name, "The Super Genie."
EARLY DAYS – As a little bitty genie, Melissa Coates dreamed not of being a jeanie, but rather that of being a tennis player. Eventually, it became her goal to enter the world of professional sports like her hero, Martina Navratilova.  At 15-years old,  Coates began weightlifting to put some real power behind the tennis racket. It worked. She did very well and entered her first tennis competition in 1984 – actually making the finals. Enjoying the training process more than the sport, she began to shift her attention from tennis to bodybuilding.
Melissa entered her first contest in the early 1990s, winning the overall lightweight category of the Windsor Physique Contest. She also won the female bodybuilding Jan Tana Classic in 1996 and then received all kinds of endorsements to begin working as a fitness model.
She also competed in the first two seasons of Extreme Dodgeball on the Game Show Network. Her team, the Barbell Mafia, went as far as the playoffs in the first season. Soon after that, she found her way to the wrestling ring. After learning the ropes from Killer Kowalski's training school and Ultimate Pro Wrestling's Ultimate University. In 2005, Melissa Coates made an appearance in Naked Women's Wrestling League, hosted by Carmen Electra.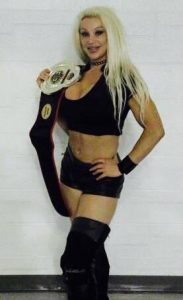 WWE – OVW – DEEP SOUTH – In 2005, Coates moved down to Louisville, Kentucky to train in WWE's developmental territory, Ohio Valley Wrestling. Appearing at WWE's Backlash, she took part in  Chris Masters' "Master Lock Challenge" segment. She then became an OVW as an official trainee and became the "head of security" for Kenny Bolin's stable "Bolin's Services." After her WWE developmental contract expired, Coates began wrestling matches with OVW Divas including including Beth Phoenix, Mickie James, Melina Perez. She managed the OVW Southern Tag Team Champions Blonde Bombers, Tank and Chad Toland. After OVW, Coates joined Deep South Wrestling in 2007. She debuted as "The Bag Lady," a homeless woman who became the love interest and eventually the valet of The Freakin' Deacon. The Bag Lady feuded with both Angel Williams and Krissy Vaine. She also had ties to Nattie Neidhart.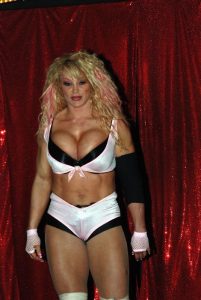 INDEPENDENTS – In 2007, she made her debut for Great Championship Wrestling on May 29 defesting Daffney to win the NWA/GCW Women's Championship, her first professional wrestling championship. On July 7, she made her debut for NWA Anarchy defeating several male wrestlers in intergender matches. Using the ring name Mile High Melissa, Coates adopted a flight attendant gimmick heading a faction called The Flight Crew.
On August 23, 2008, Coates made her debut in Women Superstars Uncensored. She formed a tag team called the "Badass Beauties" with Trixxie Lynn. After winning a number of singles matches throughout 2009, Coates feuded with the WSU Champion Mercedes Martinez. After leaving Women Superstars Uncensored, Coates began competing on the independent circuit. There she worked for the Funking Conservatory, throughout 2011 before taking a hiatus due to requiring knee surgery.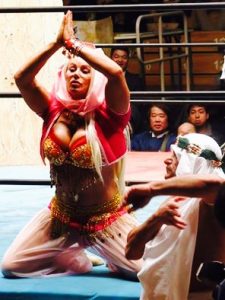 SUPER GENIE IS BORN…
After that, Melissa continued to work all over the country, until she met Sabu.
Following in footsteps of his uncle the Original Sheik, Sabu enlisted a woman to stand by him at ringside.
Melissa Coates became entranced with Sabu's ways  began managing Sabu, complete with the new Middle Eastern look…
"The Super Genie"