SCARS, SILENCE, & SUPERGLUE
PREORDER ON 2-1-19 AND ENTER TO WIN SIGNED SABU MERCHANDISE!
Sabu & Kenny Casanova bring you 400-pages of brutality on the hardcore legend's life, (preorder at WOHW.com on 2/1/19).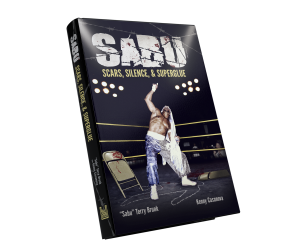 "SABU: Scars, Silence, & Superglue" gives you a no-holds-barred autobiographical look about one of the most innovative & extreme pioneers in the game. This book will cover his wrestling roots/history, his wrestling career, & everything Sabu. PLUS:
Growing up & training with The Sheik
Being considered "The King of Indies"
Working in the territorial days of wrestling
SCARS from FMW Barbwire matches
Ending the SILENCE on substance abuse & demons
Brutal injuries requiring SUPERGLUE to close
His famous ECW run
Training & working with student "RVD" Rob Van Dam
Leaving ECW to work for New Japan
His triumphant return to the ECW ring
The WWE run and heat with some superstars
Crazy rockstar-like road stories
Ridiculous & Horrific wrestler pranks/ribs
Wrestling everywhere around the world!
With two special forewards by RVD & Taz! Guest passages by Bill Alfonso, Tommy Dreamer, Raven, Al Snow, Mikey Whipwreck, Mike Johnson, Justin Credible, Blue Meanie, Kevin Sullivan & more!  For more info, go to WOHW.com